An environmental project in the Baltic Triangle area of Liverpool has been helping to rescue and reuse unwanted clothes and textiles.
The Baltic Triangle Area C.I.C. used funding from the Merseyside Recycling & Waste Authority and Veolia Community Fund to run the Baltic Swap Shop project, with the aim of stopping clothes and textiles from going to waste.
The community-based initiative has been delivered by the C.I.C. to reduce waste, increase the availability of materials for reuse and recycling, and promote a sustainable and ethical approach to fashion consumption.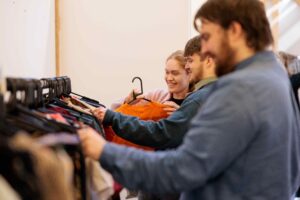 According to a recent analysis* around 5% of household bins locally contained textiles such as clothes and shoes, a lot of which could still be used. The same report showed that plastic items made up 11.9% of Merseyside and Halton's kerbside residual (i.e. black bin bag) waste.
Alex Keyter, Project Lead at the Baltic Triangle Area C.I.C., said: "Textiles is one of the largest contributors to global waste and pollution, producing 92 million tonnes of waste each year and accounting for 10% of global carbon emissions. Fast fashion exacerbates this problem by promoting a culture of disposable clothing. We're hoping we've helped address this issue by hosting Swap Shop Clothing Exchange events and engaging the diverse community of Liverpool in a fun, inclusive, and accessible way.
"The primary focus of the project has been to encourage people to consume less, reduce their environmental impact, and reuse materials that would otherwise be discarded. We hope we've helped to foster that sense of community and camaraderie in the Baltic Triangle area."
The project has set out to collaborate with local businesses, schools and community organisations to raise awareness and encourage participation in the Swap Shop events. Baltic Triangle Area C.I.C. hope these networks and resources will help raise awareness of the issues in waste within the community.
Lesley Worswick, Chief Executive of Merseyside Recycling & Waste Authority, said: "Our Community Fund projects are always full of inspirational ideas. Local organisations such as Baltic Triangle Area C.I.C. can deliver zero waste and sustainability messages and ideas in a way that people can relate to in their own lives, which is a huge benefit to the local environment."
Alex Keyter continued: "By promoting a more sustainable approach to fashion consumption we hope this project has helped contribute to a cleaner and more sustainable future for the Baltic Triangle area and encourages the community to adopt environmentally and sustainable responsible practices.
"Aside from the waste prevention element, the project has provided a platform for volunteers to gain valuable skills in event management and social media marketing. These skills can enhance their employability, contributing to the local economy by preparing them for future career opportunities."
ENDS
Notes to editors:
Pictures attached show Baltic Triangle Area C.I.C. clothes Swap Shop, 7th October 2023, Liverpool
*Statistic from Merseyside and Halton Waste Composition Analysis 2021/22
Merseyside Recycling and Waste Authority is responsible for the disposal of municipal waste on Merseyside. Established in 1986 following the abolition of Merseyside County Council, it is a statutory Authority that works with all the local authorities on Merseyside – Knowsley, Liverpool, Sefton, St Helens, Wirral and also Halton. MRWA takes a lead in advocating recycling, waste minimisation and safe and effective disposal of waste for Merseyside residents and operates (via a contract with resource management company Veolia) 16 Household Waste Recycling Centres (HWRC's) for householders in the Merseyside and Halton area wishing to recycle and dispose of their own waste.
The MRWA and Veolia Community Fund 2023/24 has seen 13 community groups from Merseyside and Halton receive a funding boost to help make the region a cleaner and greener place. The financial support will see the groups help reduce household waste, encourage recycling and resource re-use, and prevent carbon emissions. Funding total is £164,945.00
Members of the media for more information please contact:
John Lally | Communications and Development Officer
Merseyside Recycling & Waste Authority | 1 Mann Island, Liverpool, L3 1BP
Office: 0151 255 2568 | Email: john.lally@merseysidewda.gov.uk