HOW IS MY KERBSIDE RECYCLING SORTED?
We can sort the recycling collected at your kerbside at one of our Material Recovery Facilities. They use a system of conveyors that carry the recyclables over sorting screens and other sorting mechanisms. Recyclables also pass over magnetic and eddy current separators, and advanced optical equipment separates out different types of materials.
*To find out more about kerbside recycling where you live use the handy links at the bottom of the page.
FACTS AND FIGURES

The Materials Recovery Facility at Bidston has been open and operational since 2006. Gillmoss has been operating since 2011.
The Bidston Facility has the capacity to sort up to 80,000 tonnes of dry recyclables materials each year. Gillmoss can sort 250 tonnes every day.
Currently the MRFs are being used by Liverpool, Halton, Knowsley, Sefton and Wirral Councils  to sort our dry recyclables.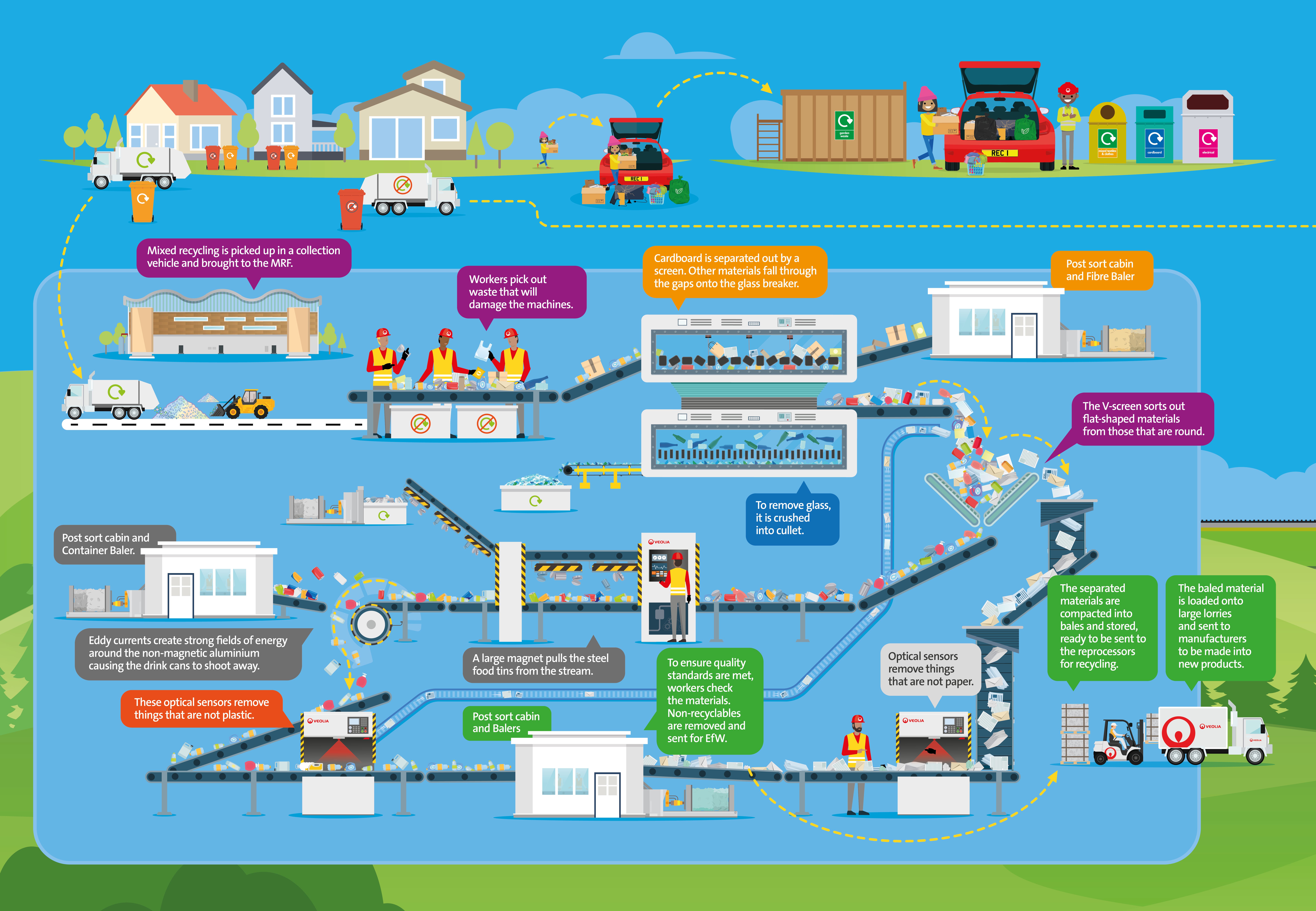 STEP ONE
Local authorities across the Liverpool City Region collect each household's recycling which is then brought to a Materials Recovery Facility, also known as the MRF.
STEP TWO
On arrival, the collected materials are loaded onto a conveyor belt and checked by hand. Large contaminants and items that could damage the machinery are removed.
STEP THREE
Cardboard is separated out using a screen and is fed along a conveyor belt where it is checked before it is baled.
STEP FOUR
Everything else drops below to a 'glass breaker screen', which breaks glass into smaller pieces. The broken glass, known as 'cullet' drops through the gaps in this screen.
STEP FIVE
Anything that isn't removed by the glass breaker screen travel to a V-Screen. This separates round shaped items from flat. Flat materials, like paper, float up and over the sides of the V- and the round shaped items drop out and onto their own conveyor belt which takes them to Step Six.
STEP SIX
The round shaped items travel under a magnet which pulls out food tins and what is left travels to an eddy current which pushes aluminium drink cans onto another stream. These are checked and bailed ready to be shipped to companies to reuse the metals.
STEP SEVEN
Optical sensors are used to refine the quality of paper and on the plastic bottle line. Light is shone onto the materials and anything which is detected as 'non-target' for that particular line is pushed off the belt by a stream of air. Items that remain are checked and baled.
STEP EIGHT
Once all of the recyclates are sorted and baled, they're loaded onto vehicles and sent to manufacturers to be turned into new products.
FIND OUT WHAT'S COLLECTED FROM YOUR KERBSIDE (click on a council area to find out more)