Recycling Centres operated by Veolia on behalf of Merseyside Recycling and Waste Authority now have emergency defibrillators on all sites.     
A total of 19 defibrillators are now in place at recycling facilities, including the 16 Household Waste Recycling Centres across the region.
With an annual footfall of over 1.5 million visitors, the sites will be set up to save lives should they ever be needed. The cost of the defibrillators has been shared equally by Veolia and Merseyside Recycling and Waste Authority (MRWA).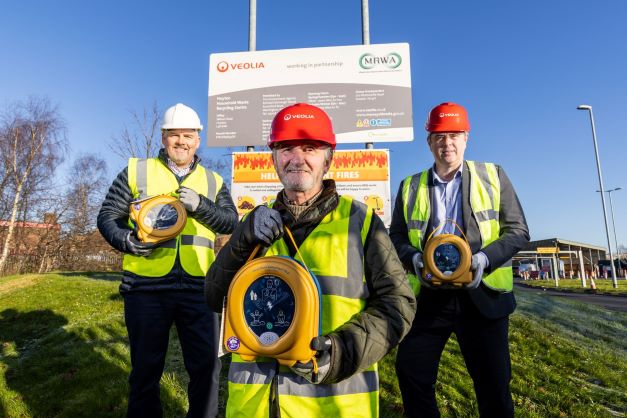 All of the defibrillators are fully automatic – with visual and voice prompts to guide the rescuer through the entire resuscitation process, including CPR which is a key link in the chain of survival. The equipment analyses heart rhythm and automatically delivers a shock if needed.
Jeff Sears, Director of Veolia Merseyside and Halton, said: "Veolia are extremely proud to partner with MRWA to install defibrillators at key sites across the region. Our sites are visited by over 1.5 million residents every year, so having this vital equipment available to use in an emergency situation could help to save a life."
Councillor Tony Concepcion, Chairperson of MRWA, said: "We have thousands of visitors to our Centres every week, so while we hope the defibrillators never have to be used it's reassuring to know that they are there and can be accessed by staff quickly in an emergency."
ENDS
…
Notes to the Editor
Photo caption (left to right): MRWA Chief Executive Carl Beer (left), MRWA Chairperson Councillor Tony Concepcion (centre), & Director of Veolia Merseyside & Halton Jeff Sears (right) at Huyton Household Waste Recycling Centre.
Full list of Household Waste Recycling Centres in Merseyside & Halton:
Bidston Recycling Centre, Wallasey Bridge Road, Birkenhead CH41 1EB
Clatterbridge Recycling Centre, Mount Road, Clatterbridge, Wirral, CH63 4JZ
Formby Recycling Centre Altcar Road, Formby, L37 8DL
Huyton Recycling Centre, Wilson Road, Huyton, L36 6AD
Johnsons Lane Recycling Centre, Johnsons Lane, Widnes, WA8 0SJ
Kirkby Recycling Centre, Depot Road, Knowsley industrial Park, L33 3AR
Newton Le Willows Recycling Centre, Junction Lane, Newton-le-Willows, WA12 8DN
Otterspool Recycling Centre, Jericho Lane, Liverpool L17 5AR
Old Swan Recycling Centre, Cheadle Avenue, Liverpool, L13 3AF
Picow Farm Recycling Centre, Picow Farm Road, Runcorn, WA7 4UD
Rainhill Recycling Centre, Tasker Terrace, Rainhill, L35 4NX
Ravenhead Recycling Centre, Burtonhead Road, St Helens, WA9 5EA
Sefton Meadows Recycling Centre, Sefton Lane, Maghull, L31 8BT
South Sefton Recycling Centre, Irlam Road, Bootle, L20 4AE
Southport Recycling Centre, Foul Lane, Southport, PR8 5LA
West Kirby Recycling Centre, Greenbank Road, West Kirby, CH48 5HL
About Veolia UK
Veolia group aims to be the benchmark company for ecological transformation. With nearly 179,000 employees worldwide, the Group designs and provides game-changing solutions that are both useful and practical for water, waste and energy management. Through its three complementary business activities, Veolia helps to develop access to resources, preserve available resources, and replenish them. In 2020, the Veolia group supplied 95 million people with drinking water and 62 million people with wastewater service, produced nearly 43 million megawatt hours of energy and treated 47 million metric tons of waste. Veolia Environnement (listed on Paris Euronext: VIE) recorded consolidated revenue of €26.010 billion in 2020. www.veolia.com
For more information visit us at www.veolia.co.uk or follow us on Twitter at www.twitter.com/veoliauk.
About MRWA
Merseyside Recycling and Waste Authority is responsible for the disposal of municipal waste on Merseyside. Established in 1986 following the abolition of Merseyside County Council, it is a statutory Authority that works with all the local authorities on Merseyside – Knowsley, Liverpool, Sefton, St Helens and Wirral. MRWA takes a lead in advocating recycling, waste minimisation and safe and effective disposal of waste for Merseyside's residents. www.merseysidewda.gov.uk