A Halton scheme to increase reuse and waste prevention is set to reach out to the local community after winning £8,000 funding.
The Make Use and Lend project will be based at the charity Halton Play Council's Resource Centre on Mersey Road, Runcorn and aims:
• To increase the amounts of materials being re-used, repaired and loaned rather than thrown away or recycled. This will include textiles, plastics, paper, metal, wood, electrical/electronic items, cardboard and glass;
• To upgrade and update our Toy Library Service for use by the local community with toys and activities to suit all abilities and development needs including a range of resources for special educational nee. Learning through play supports children's natural physical, cognitive, emotional and social development. This is even more important following the COVID- lockdowns to support positive physical and mental well-being.
• To address environmental impacts the toys we lend out will help to reduce the amounts of plastic and other materials going to waste.
• To provide craft workshops and swishing and sale events to help increase awareness and skills to recycle. re-use, repair and prevent waste.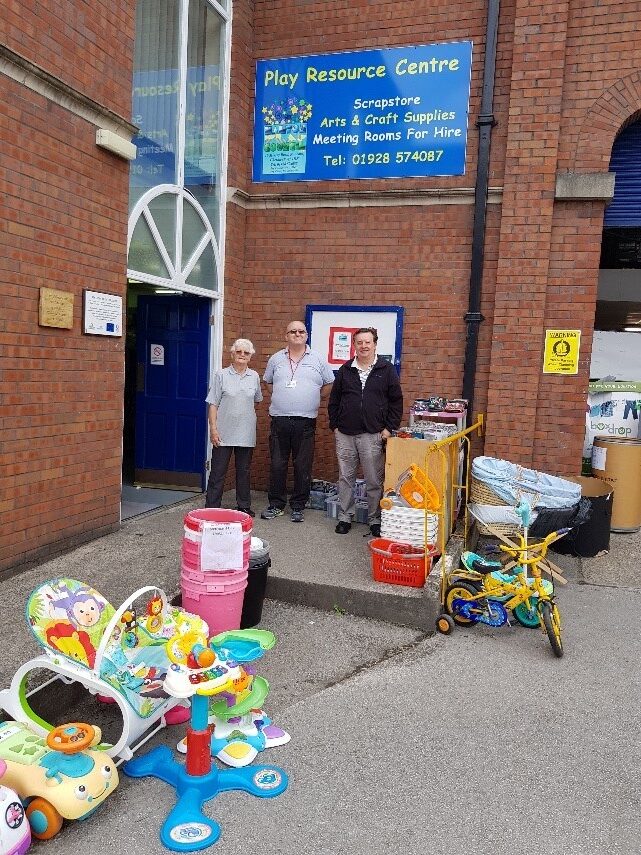 The scheme was one of just 17 projects awarded funding from Merseyside Recycling and Waste Authority/Veolia annual Community Fund and will run until the end of March 2022. The first big event will be a textile sale planned for the end of July at the Resource Centre.
Halton Play Council manager, Joyce Reilly said: "This project and our services play a key and positive role to support vulnerable children and families in Halton particularly as we recover from the impacts of the pandemic. This project will show we can do more as a local community to reduce the amount of materials we throw away, develop new skills and knowledge and demonstrate the value of volunteering."
Merseyside Recycling & Waste Authority Chairperson Cllr Tony Concepcion said: "Make Use and Lend Halton is a great idea and a worthy recipient of our Community Fund. It will keep textiles and clothes from going to waste, give other unwanted items a new lease of life, and – separate to the waste element – will show the benefits of play to vulnerable children.
"Giving groups like Halton Play Council the opportunity to look after the environment can bring benefits to all of us and can help appreciate items as valuable resources rather than something which might be just thrown away."
Information on the project and events will be provided on the Halton Play Council social media and website: www.haltonplaycouncil.co.uk; Facebook: Halton Play Council Ltd; Twitter: haltonplayc
ENDS
Media enquiries to:
Stuart Donaldson, Halton Play Council Email: stuartwho1@live.co.uk Tel: 07882693249
Picture Caption: Volunteers outside Halton Play Council Resource Centre (Sally, Ian and Stuart)
Note to Editors
1. Halton Play Council was established in 1997 as a local independent charity which supports, delivers and champions free play for all children in Halton.
2. The MRWA and Veolia Community Fund supports community and voluntary sector groups, not for profit social enterprises and schools in Liverpool City Region.
3. MRWA operates (via a contract with Veolia) 14 Household Waste Recycling Centres (HWRCs) for householders in the Merseyside area wishing to recycle and dispose of their own waste.
4. Merseyside Recycling and Waste Authority is responsible for the disposal of municipal waste on Merseyside. It is a Statutory Authority that works with the local authorities in Merseyside and with Halton Borough Council and MRWA takes a lead in advocating waste prevention, re-use and recycling in the City Region.