CORONAVIRUS UPDATE: THE REUSE SHOPS AT OLD SWAN AND SOUTH SEFTON RECYCLING CENTRES ARE TEMPORARILY CLOSED 
The Emmaus Re-use Shops at Old Swan (Cheadle Avenue) and South Sefton (Irlam Road) Recycling Centres accept used and 'pre-loved' items from Merseyside householders which have been dropped off at the Recycling Centres. Instead of being landfilled or recycled, the donations are cleaned, given a new lease of life and put up for sale.
Where are they?
Old Swan Recycling Centre, Cheadle Avenue, Liverpool L13 3AF
South Sefton Recycling Centre, Irlam Road, Bootle L20 4AE
When are they open?
Old Swan – Mon to Sun 10.00am to 4.00pm
South Sefton – Mon to Sun 10.00am to 4.00pm
Telephone – 0151 928 1588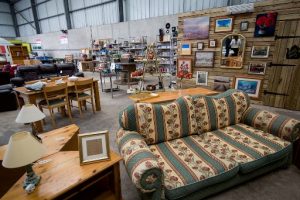 Please donate your unwanted items to the shops. These items will then be cleaned and put up for sale at a low price. Items can include:
Furniture
Children's toys
Tools/bric-a-brac
Electrical items
We are happy to accept most household items but there are some exceptions for either legal or practical reasons. This includes soft furnishings without a fire label, safety items, baby equipment or any item that is not in a saleable condition.
If you're planning to visit any Household Waste Recycling Centre in a van or with a large trailer then you'll need a Permit to access the site – this includes the Re-use Shops. Apply for a Permit by calling Tel. 0151 236 0305 or visiting www.merseysidewda.gov.uk/waste-recycling/permit-scheme.
The Community Reuse Shops are a venture being delivered by a partnership of Emmaus, MRWA and Veolia.