All of our Recycling Centres are very busy at the moment.
Queuing at sites maybe extensive
All Centres currently close at 5.00pm – entry cannot be guaranteed if there are queues at that time
We're asking residents if their visit is essential ……. and if they could postpone making the journey for a few weeks.
We've come up with a range of suggestions about recycling and waste disposal to help if you don't want to visit.
ADVICE ON YOUR ALTERNATIVE WAYS TO RECYCLE AND DISPOSE OF YOUR WASTE:
DECORATING AND DIY WASTE:

Could you postpone that DIY or decorating project for a few weeks?
Could you store some of the waste in a safe place?
Old wallpaper can be put into your normal waste bin.
Let old paint tins dry out by leaving the lids off and storing in a safe place OR pour the waste paint onto newspaper in a cardboard box – allow to dry and then bag up the paper, and put into your normal bin.
Clean off brushes and rollers instead of throwing them away – there will be another decorating job soon!

GREEN AND GARDEN WASTE:

Have you thought about home composting? Residents from across the Liverpool City Region can purchase a wide range of Home Compost bins and accessories at competitive prices by visiting: merseyside.getcomposting.com.
For a full guide on how to compost at home, please visit recyclenow.com/reduce-waste/composting/making-compostwhich offers advice on how to set up your composter and make the best compost.
Could you store some of the green and garden waste in a safe place?
Although your local council's garden waste collections may not have restarted yet – you could store your green waste in your garden waste bin for the time being.

USE YOUR KERBSIDE BINS:

If your disposing of household waste, remember to use your kerbside normal waste and recycling bins. To find out more visit www.recycleright.org.uk

LARGE ITEM AND ELECTRICALS:

We know it's difficult if you have large items of furniture and household electricals to recycle.
Your local council will be operating a bulky waste service, although appointments may be limited – contact them directly to see if they can help.

SAFE STORAGE:

Please store your waste safely – COVID related waste should be isolated for 72 hours before safe disposal.
Make sure any other waste that you are storing is wrapped and secured safely especially if being stored outside.

SELL, SWAP AND GIVEAWAY:

Could you give the items you want to throw away a second life?
There are plenty of ways to sell, swap or giveaway items across a while host of platforms including freecycle, Ebay, Facebook etc
Check to see if any family, friends, or neighbours might like, or need the items that you're throwing away – it just takes a quick call, text or email.

CHARITY SHOPS:

We know that charity shops aren't yet open, but you might want to consider hanging on to those good quality items and clothes for a few weeks longer – they could help support a great cause if you can donate them.

RECYCLING AT SUPERMARKETS AND COMMUNITY HUBS: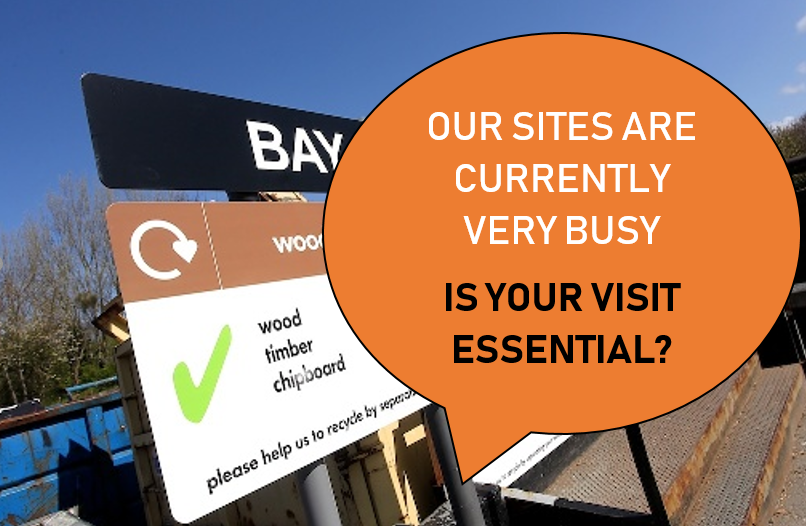 REMEMBER: Lots of local supermarkets have recycling facilities for a limited number of items such as paper, card, cans, bottles, textiles etc. Please use your local facilities if you can.