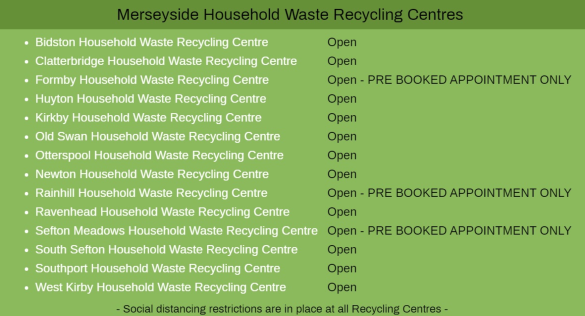 Most of Merseyside's Household Recycling Centres have reopened.
To help you plan your visit we've put together a range of the most FREQUENTLY ASKED QUESTIONS below:
Are any Recycling Centres closed?

Our Rainhill Centre reopened on Monday 21st September.

For Rainhill, Sefton Meadows and Formby residents will need to book a slot to access the site. CLICK HERE for more information.

Will I have to book a slot to visit the sites?

We have introduced a booking system for Rainhill, Formby and Sefton Meadows only – CLICK HERE for more information.

Will the sites be busy?

 

We expect all our sites to be busy, so if your journey is not essential and your waste can wait, we'd advise postponing your visit for now.

How long will I have to queue at the site?

 

The queues expected at our sites mean that you could be waiting a long time at some sites – you may have to queue for several hours.

Do you have any way for residents to see how long the the queues are at sites?

It is difficult for us to provide waiting times for all of our open Recycling Centres at any given time – expect to queue between 30 minutes and 2 hours.

How many cars will be allowed on site?

 

There will be restrictions on site and there will only be a few cars allowed on site at any one time. Please follow staff instructions.

What are the social distancing restrictions in place?

 

You will be directed to a designated space and you will be expected to follow the social distancing rules as instructed. Where possible a one way system will be marked and designated on each site.

What can I bring to site?

The full range of household waste and recyclable materials can be brought to sites

What if I have waste relating to coronavirus infection?

If any households have had COVID-19 symptoms the residual waste should be double bagged and left for 72 hours before being putting in your residual bin or brought to site in accordance with Public Health England guidance.

Can I walk waste onto site?

Walk in access with waste will not be allowed.

Will anyone on site be able to help unload?

Staff will not be able to help you unload your car due social distancing restrictions.

Is the Permit Scheme in operation at sites?

 

The Commercial Vehicle Permit Scheme is temporarily suspended. A limited number of vans are now allowed on – please see this link for more information https://www.merseysidewda.gov.uk/2020/07/book-a-van/

Can I come to site in a van or bring a large trailer?

 

I have a small trailer (less than 2 metres) can I bring that to the site?

Small Trailers (those less than 2 metres) that do not usually need a permit will be allowed on site.

How many people can be in the car?

 

As few people should attend the HWRC in a vehicle as possible and, wherever practical, only one person should leave the vehicle to dispose of the waste.

Any person who does get out of the vehicle on site should follow any instructions provided by site staff and should remember to follow social distancing guidelines at all times.

Can I bring my children with me?

 

Do not bring children to site unless you really have to. If you do bring children they will not be allowed to leave the car.

Are there any traffic restrictions at the site or on the surrounding roads?

 

There will be queues and there may be restrictions on the highways and roads leading up to the sites, there will be traffic marshals at most sites and we ask people to adhere to any advice they may give.