MRWA intends to reopen most Household Waste Recycling Centres on Monday 4th May 2020 (excludes Formby, Rainhill and Sefton Meadows*)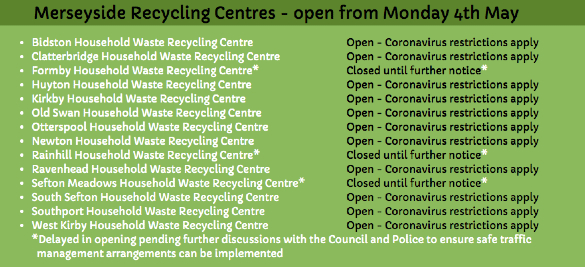 Councillors on the Authority have decided to open with restrictions and subject to traffic management plans being in place for each site.
(*These sites are delayed in opening pending further discussions with the Council and Merseyside Police to ensure safe traffic management arrangements can be implemented.)
MRWA along with its contractor Veolia will be implementing clear operating guidelines with respect to the necessity of visits, social distancing on site and queuing. Our priority at all times is the safety of residents and the hard working staff at all of our Centres.
FOR MORE INFORMATION ABOUT VISITING YOUR RECYCLING CENTRE CLICK HERE TO SEE OUR FREQUENTLY ASKED QUESTIONS
The restrictions will be:
● The number of vehicles allowed on site will be restricted, and queuing times will be significantly higher.
● Cars only
● One person per vehicle (NB. Blue Badge holders will be able to be accompanied by one family member)
● No vans, commercial-type vehicles or large trailers.
● Social distancing of at least 2 metres will be strictly enforced.
● Site Employees will not be able to assist with unloading.
● Sites will be open 8.00 am – 8.00 pm every day.
If households have had COVID-19 symptoms then waste should be left for at least 72 hours before disposal and personal waste should be safely double bagged. Place it in your normal bin collection if you can.
For your local Recycling Centre see – https://www.merseysidewda.gov.uk/waste-recycling/household-waste-recycling-centres-hwrcs/