A new campaign has been launched to help stop thousands of tonnes of clothes and textiles going to waste.
Recycle Right – an initiative led by Merseyside Recycling and Waste Authority (MRWA) to boost recycling – is targeting these materials as research shows that around 18,000 tonnes of textiles goes into people's bins each year in the Liverpool City Region.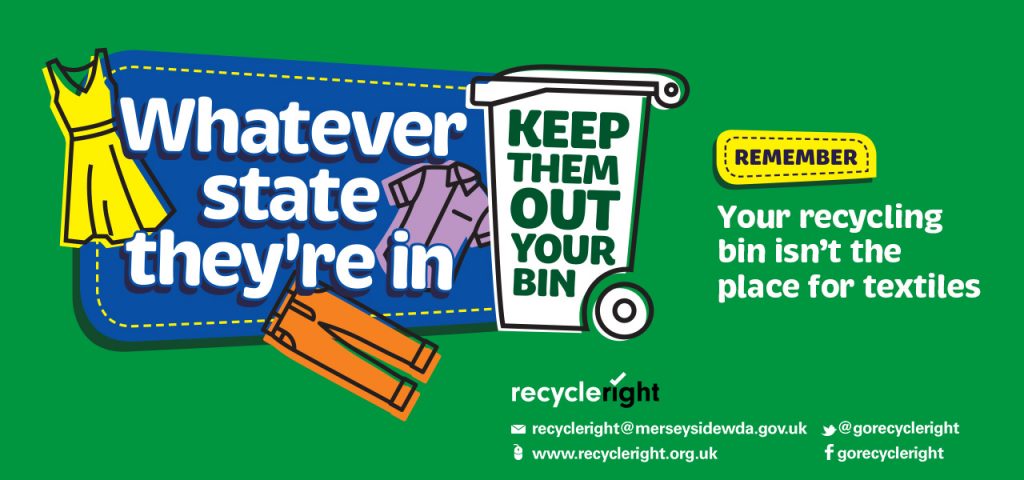 As well as preventing textiles from ending up in the bin, the new campaign wants to provide people with ideas for giving items a second lease of life. Before you throw something away and buy new have you thought through all your options?
Upcycle, recycle, re-fashion, reuse
• Buying new clothes. Buy better made clothes that are easy to care for and made to last. Did you know that in the UK around 300,000 tonnes of unwanted clothing gets thrown away every year?
• Care and Repair. Can you repair an item instead of throwing it away? It'll keep your clothes and textiles looking great and will save you cash too.
• Refashion and Upcycle. Think an item is due for an upgrade? Look online and find inspiring ways to create a fresh look from the things you already have.
• Unwanted textiles. Find the things you no longer want a new home by selling, swapping or giving to charity. Clothing, carpets, blankets, rugs – love your look then pass it on.
Councillor Tony Concepcion, Chairperson of MRWA, said action was needed to halt this waste of materials: "There is a problem with high quantities of textiles such as clothes, curtains and bedding being placed in recycling and household waste bins. We don't want textiles in recycling bins because they can't go through the sorting and separating machinery with other recyclable items such as bottles and paper."
"Furthermore, we don't want textiles in household waste bins because that is just a waste of material resources which could be used again. Please keep textiles out of your bin. Use clothes recycling bring banks, Recycling Centres, charity shops, charitable door to door collections, reuse them, give them away or even sell them."
For more information about recycling in the Liverpool City Region please visit www.recycleright.org.uk.