Merseyside Recycling and Waste Authority (MRWA) invite you to be part of the Liverpool City Region's new Circular Economy Club at its first free event on 3rd September 2018. It's an opportunity to join the region's newest forum and be part of an international network of more than 2,600 circular economy professionals and organisations across 60 countries.
The Club aims to:
• Accelerate circular economy activities across the Liverpool City Region
• Share experiences and expertise
• Develop and deliver resource management projects that will create a region where we reduce what we throw away, retain value and create employment in this growing part of the economy.
Membership of the Club is free and brings a host of benefits:
• Support to deliver cost effective, sustainable products and services and maximise your organisation's triple bottom line by more efficient use of resources.
• Access to circular economy experts and best practice locally and globally.
• Help to drive the implementation of the circular economy, and a collaborative and innovative approach to competitiveness and job creation in our City Region.
The first ever CIRCULAR ECONOMY CLUB LIVERPOOL CITY REGION BREAKFAST EVENT – 'A PLACE WHERE NOTHING IS WASTED' will be hosted at No1, Mann Island, Liverpool, L3 1BP on Monday 3rd September 2018 , 8.00 am – 10.30 am.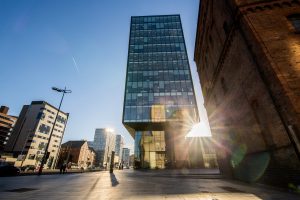 Keynote speakers will include:
• Carl Beer, Chief Executive, Merseyside Recycling and Waste Authority – What the Club's about and how your organisation can benefit
• Wayne Hubbard, Chief Executive Officer, London Waste and Recycling Board – The London Circular Economy Route Map and why it's not just about waste
• Shaun Doran, Chief Executive Officer, Bulky Bob's – Local Circular Economy activity success story
Our Club has been developed around the platform of a LinkedIn Group and will have access to the first open-source database on circular economy-related initiatives in the world.
TO BOOK YOUR PLACE AT THE EVENT PLEASE REGISTER FROM THIS LINK www.eventbrite.co.uk/e/a-place-where-nothing-is-wasted-cec-liverpool-city-region-tickets-47459154609?aff=ebdssbdestsearch
FOR MORE INFORMATION: TONY SCOTT: tony.scott@merseysidewda.gov.uk / Tel: 0151 255 2567