Fourteen community groups from Merseyside and Halton have received funding to help boost recycling, re-use and waste prevention in the region.
£115,000 is coming from the Merseyside Recycling and Waste Authority (MRWA) and Veolia Community Fund 2018/19, which has been running annually since 2006. The financial support will help the selected groups to reduce waste, encourage recycling and materials re-use, and prevent carbon emissions.
Some of the projects funded include:
– The reduction of food waste through cookery clubs and growing local produce
– Re-using and upcycling unwanted furniture
– Creative sewing classes to encourage textiles re-use
– Creating a school garden green space with used plastic bottles
– A pop-up re-use shop selling donated goods
– Refurbishing and redistributing furniture, clothes and tools
Successful applicants have been awarded up to £25,000 for schemes which operate across Merseyside and Halton, and up to £8,000 for projects which work solely at local authority level.
Graham Morgan, Chairperson of MRWA, said: "Giving local groups the opportunity to get involved in looking after their environment can only bring benefits to all and can help us appreciate items as valuable resources rather than something which otherwise might be just thrown away.
"These projects can have a significant impact on their local community and make Merseyside and Halton a cleaner and greener place for us all to live and work.
Carl Beer, Chief Executive of MRWA, said: "The successful applications made it clear that they understand the importance of resource efficiency and community education. We're really looking forward to seeing what they achieve."
This year projects must tackle one or more of the four priority household waste materials which have been identified by MRWA as key, namely Food, Plastics, Textiles and Furniture. An analysis of waste in Merseyside and Halton in 2016 highlighted that a greater amount of these materials could be re-used or recycled.
The impact of the 2017/18 Fund saw 12 projects deliver 28 full time equivalent jobs (created or safeguarded), participation by 479 volunteers, 29,178 people directly engaged and 1024 tonnes of waste material diverted from landfill*.
The Liverpool-based Neighbourhood Services Company Ltd (NSC) which operates Home Farm at Croxteth Park benefitted from the Community Fund in 2017. The project used money to rescue old and unwanted wood to renovate animal dwellings, as well as enlisting the help of adults with learning difficulties to transform the raw materials into new products which are available to buy in the Craft Shop at the farm. Lisa Jennions, NSC Manager, said: "The ongoing support from MRWA has been invaluable in enabling us to deliver recycling and reuse activities at Home Farm. The project is extremely popular with visitors and it's great to see new life breathed into what was previously 'waste'."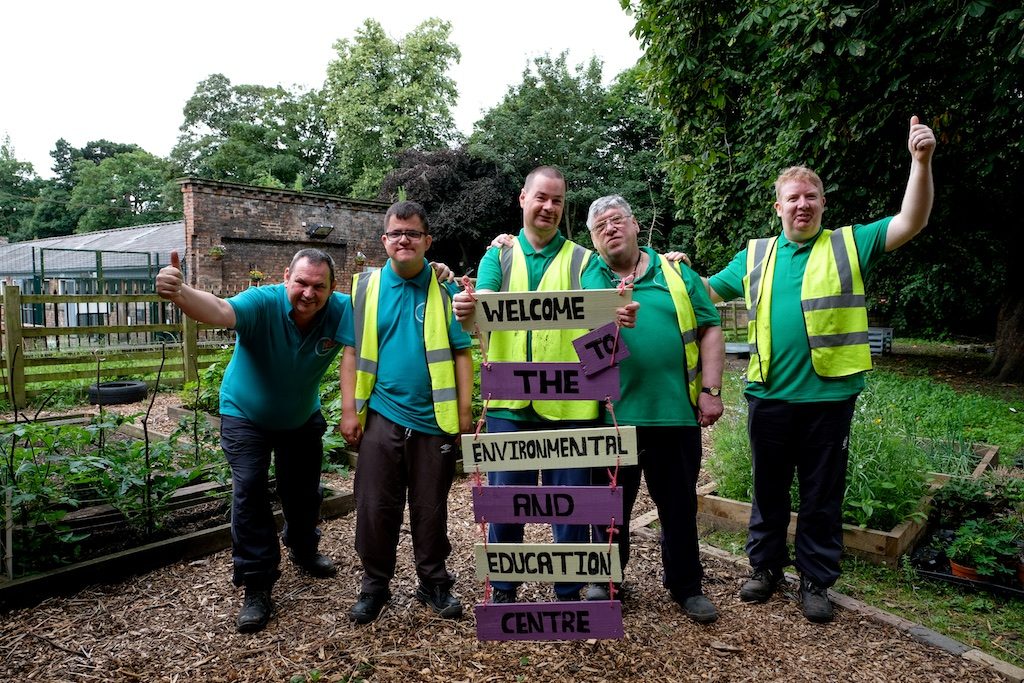 Projects have until March 2019 to deliver their schemes.
ENDS
Note to editors
Details of each project:
Merseyside and Halton
The Let's Cook Project – Let's Cook in Merseyside
Will deliver 40 food waste prevention and cookery skills clubs each delivering nine sessions and three community events – focusing on changing food waste behaviours throughout Merseyside and Halton.
The HoneyRose Foundation – Crafting and Education for Reuse and Recycling of Waste Wood
Will train volunteers to upcycle furniture and to PAT test unwanted electrical items.
A.C.E. Active Community Enterprise – ACE Place
Will support and offer work placements for adults with learning difficulties through a food recycling and composting project.
Pioneer People Wirral – Inside Art & Upcycle Project
Donated bikes will be refurbished in conjunction with Liverpool Prison to provide skills-based qualifications; a variety of refurbished items (inc. furniture, clothes, tools) will be redistributed through charity schemes.
Halton
Halton Play Council – Pop up Scrapstore
A pop-up 'scrapstore' at the weekly Widnes Market will sell low cost recycled fabrics, toys, stationary and other household items.
Knowsley
Faiths4Change – Northwood Communitree 4aRts (Reduce, Re-use, Recycle, Resources)
This project will target low levels of recycling in Northwood, Kirkby, using swap shops to re-use textiles, toys and bulky items.
Lord Derby Academy – The Plastic Bottle Vertical Garden
A 'vertical' garden will be created by school pupils using 200 plastic bottles as planters.
Liverpool
Granby Toxteth Development Trust – Reusing in L1578 and Beyond
This project will focus on clothes and furniture re-use through initiatives such as living room "Waste Not, Want Not" workshops", community re-use champions, local clean ups and clothes rail events.
Sefton
St Joseph's Hospice – The Cardboard Box and Textile Challenge
Will feature a school recycling club, workshops on reduce, re-use and recycling, and a Teddy Tombola which will see second-hand teddy bears washed and resold.
Emmaus Merseyside – Waste Driven
This Seaforth-based charity will provide house clearances and associated skills training such as heavy goods driving, customer service and furniture restoration.
B 4 Biodiversity – Ford Lane Community Garden
A canal-side clean up, food growing and composting and Reduce Re-use Recycle workshops.
St Helens
Changing Communities – ReStore St Helens
To establish a ReStore in St Helens which will sell repaired and upcycled furniture in conjunction with partner charity The Hope Centre. Will also offer skills training in DIY and retail for long term unemployed.
Wirral
Wirral Change – The Innovation for Waste Project
This Birkenhead-based non-for-profit organisation will set up a community space by upcycling furniture and kitchen equipment. They will deliver four types of community sessions and skills based workshops including for cookery/food waste.
Friends of Bebington Central Library – Sew Friendly
Weekly sewing project at Bebington Central Library programme to overcome loneliness and isolation. Creating patchwork and other articles to marketable standard, utilising pre-used fabric. Skills in altering and repairing garments Group discussion on fabrics and clothing encouraging purchasing of higher quality durable items not cheaper "disposable" fashion.
Attached images show Croxteth Park's Home Farm project from 2017. Image captions:MRWA_HomeFarm1: (l to r) Martin O'Looney from NSC/Home Farm, Billy Bob the Owl, Cllr Graham Morgan Chairperson of MRWA, Sandy Hughes from NSC/Home Farm, and Carl Beer, Chief Executive of MRWA.
MRWA_HomeFarm3: Trainee employees at the Home Farm Environmental and Education Garden
The Merseyside Recycling and Waste Authority and Veolia Community Fund is open to community and voluntary sector groups, faith groups, not for profit social enterprises and schools in Merseyside and Halton.
MRWA operates (via a contract with Veolia) 14 Household Waste Recycling Centres (HWRC's) for householders in the Merseyside area wishing to recycle and dispose of their own waste.
Merseyside Recycling and Waste Authority is responsible for the disposal of municipal waste on Merseyside. Established in 1986 following the abolition of Merseyside County Council, it is a statutory Authority that works with all the local authorities on Merseyside – Knowsley, Liverpool, Sefton, St Helens and Wirral. MRWA takes a lead in advocating recycling, waste minimisation and safe and effective disposal of waste for Merseyside residents.
*Provisional figures correct at time of publication.
Members of the media for more information please contact:
John Lally
Marketing and Communications Officer
Merseyside Recycling and Waste Authority
Direct Dial: 0151 255 2568
General enquiries: 0151 255 1444
www.merseysidewda.gov.uk
www.twitter.com/merseysiderwa
www.facebook.com/merseysiderwa