A charity in Wirral is calling for the support of local residents as it looks to generate much needed funds as well as prevent everyday household materials from going to waste.
Wirral Hospice St John's has launched the campaign which will see unwanted items – such as furniture, clothing, toys, books, electricals and more – cleaned up and sold on, with the sales money going to support its vital operations.
The charity provides free care and support to adults with life-limiting illnesses such as cancer, heart, liver and kidney disease, respiratory and neurological conditions, and includes a 16-bed Inpatient Ward, Outpatient Clinics, Day Therapy unit and Hospice at Home service.
The project – Supporting Patient Care Through Recycling and Re-use – is part of the Merseyside Recycling & Waste Authority (MRWA) and Veolia Community Fund 2017/18 which was set up to help support waste prevention, re-use and recycling projects locally.
The Hospice has received £5000 from the Fund to help expand their operations, which they hope will increase donations from members of the public, with the extra revenue generated helping run the Hospice's services.
Teresa Nightingale, Head of Fundraising at Wirral Hospice, said: "The project is aiming to encourage more Wirral residents to help us re-use and recycle their unwanted and preloved items and generate income for local hospice care.
"We want them to donate more goods, items and materials and volunteer their time. We've got six shops throughout the Wirral, and we even run a van pick-up service for large and bulky items.
"We're not a national charity, we're local – any money raised by our activities goes back to the local community."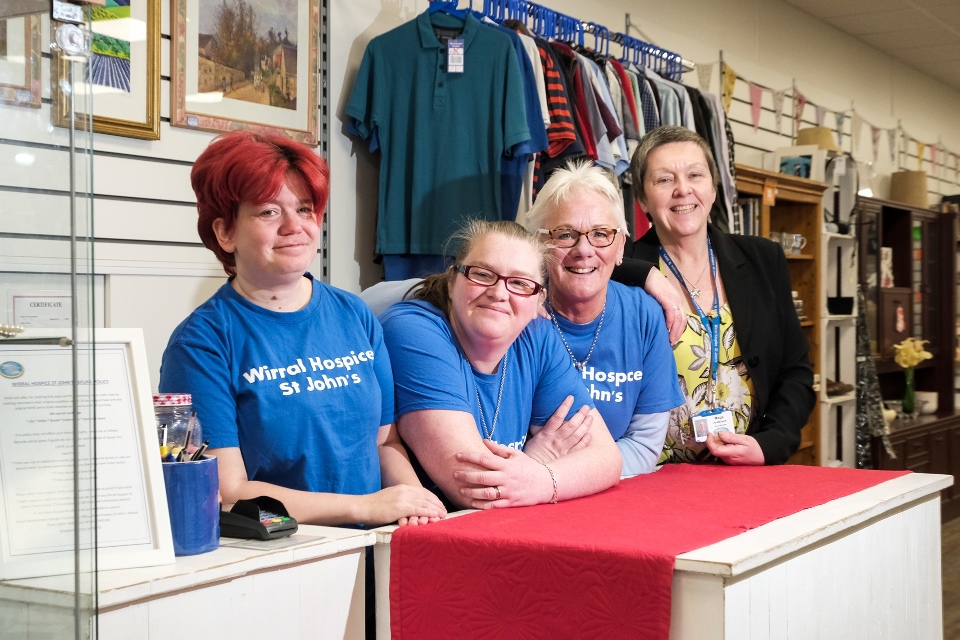 Wirral Hospice hopes that the project will help to generate an additional revenue of £20,000 which will go directly towards their annual fundraising target to enable them to care for patients and provide support to their families and loved ones.
Councillor Graham Morgan, Chairperson of MRWA, said: "This is a great project as it helps people who are in need and it also rescues materials that might otherwise have been thrown away. Hopefully the Hospice will see a big increase in items coming through their doors."
The Hospice runs six charity shops in Wirral:
Claughton – 64 Upton Road
Heswall – 254 Telegraph Road
Liscard – Liscard Way
Moreton – Hoylake Road
New Brighton – Victoria Road
West Kirby – Banks Road
If you wish to donate or contact the Hospice, visit www.wirralhospice.org or call 0151 334 2778.
ENDS
Notes to editors
Image captions:
MRWA_WH_1: Staff from Wirral Hospice and Merseyside Recycling and Waste Authority
MRWA_WH_2: left to right – Patrick Smith (Retail Development Manager at Wirral Hospice St John's), Glynn Stevenson (Waste Strategy Policy Officer at Merseyside Recycling and Waste Authority), Teresa Nightingale (Head of Fundraising at Wirral Hospice St John's)
The MRWA and Veolia Community Fund 2017/18 has seen twelve community groups from Merseyside and Halton receive a funding boost to help make the region a cleaner and greener place. The financial support will see the groups help reduce household waste, encourage recycling and resource re-use, and prevent carbon emissions. For more information see http://www.merseysidewda.gov.uk/waste-strategy/community-fund/mrwa-community-fund-201718/
MRWA is a local government body with nine elected members from the five constituent councils in Merseyside. It organises and manages disposal of all waste collected by the five councils and operates 14 Household Waste Recycling Facilities. www.merseysidewda.gov.uk
Media enquiries:
John Lally
Marketing and Communications Officer
Merseyside Recycling and Waste Authority
Direct Dial: 0151 255 2568
General enquiries: 0151 255 1444