We have been working with Liverpool City Council to look at developing new facilities to help raise recycling rates and divert waste from landfill. As part of this work we are proposing to develop a new Household Waste Recycling Centre on land off Cheadle Avenue in Old Swan, Liverpool, L13 3AF. We are looking to open the site by the end of 2015.
Where is it?
The site was identified for development through a joint working exercise between Liverpool City Council and MRWA to develop an additional Recycling Centre within the City of Liverpool. Currently, Liverpool residents can use any of the Recycling Centres within Merseyside; however, only one of the Centres at Otterspool on Jericho Lane falls within the Liverpool City Council administrative boundary.
The new Recycling Centre in Old Swan will provide Liverpool residents with a modern, well planned facility, centrally located in the City. The development process with Liverpool City Council identified land close to Cheadle Avenue in Old Swan in Liverpool as an appropriate site for additional recycling facilities.
The site is located centrally between Prescot Road (A57) to the south and Lister Drive to the north and is located approximately 5km from Liverpool City Centre in a mixed industrial setting. The area benefits from good transport links, and has a history of waste use which includes the adjacent Liverpool City Council waste operations depot.
What will it look like?
The new Recycling Centre will be designed to be in keeping with the industrial setting of the area. The site will be split level with a retaining wall that will separate the upper and lower levels. A forecourt style canopy will cover the length of the retaining wall and will form the public recycling area which will contain the large waste containers for household materials. An area providing easy access for the site users with limited mobility will be provided at the site. The lower level will be accessed by operational vehicles, and a dedicated small business recycling area will be located on the south eastern part of the site. The site will look similar to our Ravenhead facility – pictured below.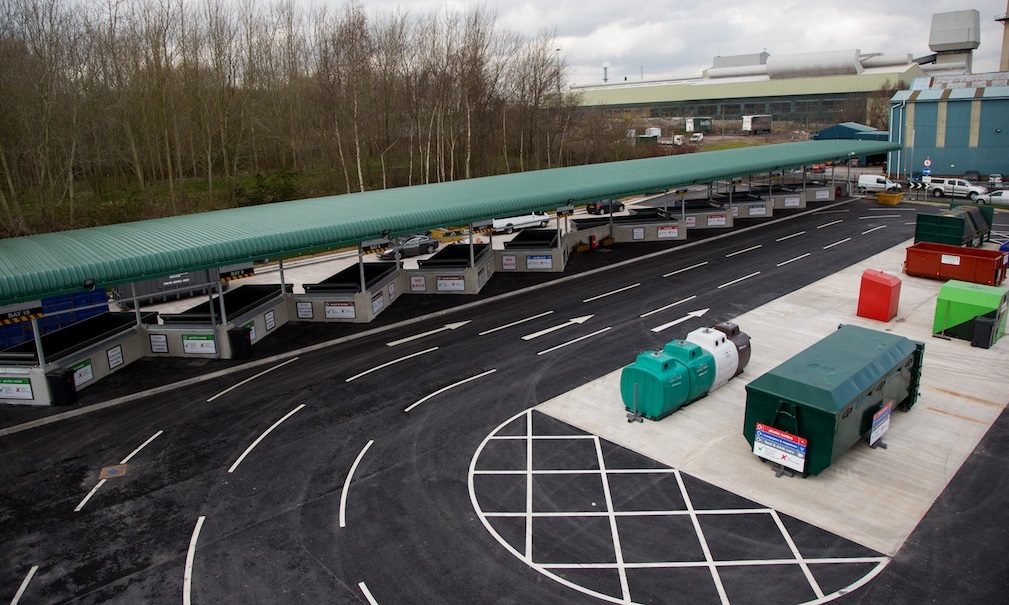 The upper level will have two buildings – an office and welfare unit, and a Waste Electrical and Electronic Equipment building for the collection of large and small electrical items from residents. Containers for the most common forms of recycled material (glass, plastic bottles and paper/cardboard) will be situated close to the public entrance in 'Bring Banks'. There will also be a small sentry type cabin installed at the entrance to provide a 'meet and greet' facility for site users.
What will the new facility accept:
The new facility will be able to accept a wide range of recyclables and waste streams and would be able to accept up to 15,000 tonnes of waste per year (including small business recycling). The Centre's layout will facilitate the effective separation and recycling of various waste streams. These waste streams will include, but not be limited to:
cardboard
carpet
electrical
flourescent tubes
food tins and drink cans
fridges and freezers
garden waste
hardcore and rubble
hard plastics
magazines and newspapers
mixed glass bottles and jars
plastic bottles
small business/trade waste
scrap metal
soil
textiles
wood and timber
Opening times
The site will be operated by Veolia, our contractor. The new Centre will operate with the following opening hours:
Summer (1st April to 30th September) – 8am to 8pm
Winter (1st October to 31st March) – 8am to 5pm