UPDATE – MRWA was successful in its planning application for this site.
A new approach to managing the waste we produce
We must change the way our waste is managed. Last year (2007/2008) we produced 849,105 tonnes of municipal waste of which about a quarter was recycled leaving the rest to be landfilled.
We can't keep depending on landfill – costs are increasing and space is running out. We must meet new targets to reduce landfill or Merseyside could face fines or charges of millions of pounds in future years.
At Merseyside Waste Disposal Authority, we have been working with the six local councils (Halton Borough Council, Knowsley Borough Council, Liverpool City Council, St Helens Council, Sefton Borough Council, and Wirral Borough Council) to look at new facilities to help raise recycling rates and divert waste from landfill.
As part of this work we are proposing to develop a new Household Waste Recycling Centre on Depot Road, Kirkby to replace the nearby existing facility.
The Depot Road Site

Merseyside Waste Disposal Authority (MWDA) has used a rigorous site selection process to find appropriate sites for new recycling and waste facilities. This process identified the new Depot Road site as an appropriate site for additional recycling facilities. A location map is below – click on it for a larger version.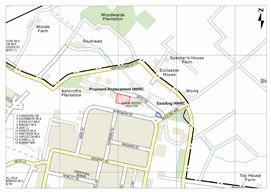 The Depot Road site is located at the northern end of the Knowsley Industrial Estate area, approximately 300m away from the existing facility. The site covers an area of 0.8 hectares (2 acres) and is currently vacant. The land is currently owned by the Potter Group, who will continue to occupy the adjacent site.
What is being proposed?

Merseyside Waste Disposal Authority is proposing to build a new and improved Household Waste Recycling Centre at Depot Road in Kirkby. This will replace the existing Recycling Centre currently located at the corner of Depot Road close to Moss End Way. The proposed new Centre will be situated on a vacant site further along Depot Road.
Why are we replacing the existing Centre?
Merseyside Waste Disposal Authority is investing in improving existing sites and building new recycling and waste facilities across Merseyside. The existing Kirkby Household Waste Recycling Centre is a popular and successful site but is not purpose built and needs improving. At busy times traffic has to queue on the highway outside of the Centre.
How will the new Centre be different?

The new purpose-built Centre will be larger and have more capacity and containers for the public to recycle. The new Centre will also have a canopy over the main part of the recycling containers to provide cover for users and containers on the site. A new layout will ensure that traffic and pedestrians can access the site effectively. This will also ensure that queuing on the highway is kept to a minimum. A layout map of the new Centre is below – click on it for a larger version.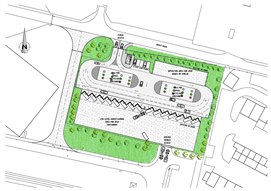 What would the new Centre do?

The new Centre will enable Merseyside householders and residents to recycle and dispose of a range of waste and recyclable materials that are generated in their homes – free of charge. The new Centre will accept a wide range of materials which will include: car batteries, cardboard, electrical items and equipment, engine oil, garden waste, household batteries, paper, furniture, rubble, scrap metal, textiles, drinks cans, timber, glass and soils. The new Centre will NOT accept trade and commercial waste or asbestos materials.
Traffic and Transport

The existing Recycling Centre is well used by the general public with an average of 2443 vehicles accessing the site every week. If the new site is granted planning permission we anticipate that this figure will rise by a small amount, with the average weekly vehicle use being approx 2966 when operating at full capacity.
The proposed new site would have traffic management measures incorporated into its design with the capacity for 20 vehicles to queue on the site. This would mean that vehicles would not have to queue on the highway, a problem at the current site. Service vehicles – those that would move the recyclable and waste materials off the site – would access the new site from a different entrance to the general public. This entrance would be located on Woodward Road on the opposite side of the site.
The Planning Application will also include the development of an access road. This is a condition of the lease for the land for the site from the Potter Group, who will continue to occupy the adjacent site and who need access via a road link between the main area the Potter Group use (the Rail Freight Terminal) and Depot Road.
Protecting People and the Environment

MWDA's contractor Veolia Environmental Services will also have to apply to the Environment Agency for an Environmental Permit to operate the Centre. This Permit will ensure that the site is being operated in a safe and sustainable way and that the activities at the site are not impacting on the public and the environment in an adverse way.
The Planning Application will include detailed information on a range of surveys and assessments, which will show how local people and the environment will be protected, including:
Landscape and Visual amenity: The Application will show how the new facility will look and any changes to the site such as additional screening or planting.
Ecology and nature conservation: We will detail the surveys undertaken on plants and wildlife and, where necessary, how they will be protected.
Air Quality: We will show how air quality in the local area will be protected.
Noise: In this section we will detail the research we have undertaken
on noise and how we plan to manage any impacts.
Socio-economic effects: We will provide information on the number of full time and part time jobs that the new facility may provide.
Traffic and access: In this section we will detail the results of the Traffic Impact Assessment (TIA), which looks at the existing and new traffic movements on the site. This will give details of any increase in the traffic to the new facility. The TIA will also include an assessment of the capacity of the surrounding roads and junctions.
What happens next?

Before we submit a Planning Application for the new Household Waste Recycling Centre at Depot Road we want to hear from you.
Over the coming weeks Merseyside Waste Disposal Authority will be informing residents and interested parties of the proposals. We will register all your comments and suggestions and, as part of the Planning Application, submit a Public Engagement Report, which will inform Knowsley Council of how we let stakeholders and the community know of our plans.
Following this and after the Planning Application has been submitted, you will be able to comment on the proposals directly to Knowsley Council who will undertake their own formal consultation as part of the planning process.
Public Engagement Days
We will be hosting some information days where local people can find out more about what is proposed at the Depot Road site. The information days will take place on:
Thursday 2nd July 2009 11.30am – 5.30pm
Friday 3rd July 2009 11.00am – 7.00pm
Kirkby Fire Station, Webster Drive, Kirkby, Knowsley, Merseyside, L32 8SJ
This venue has disabled access.
Decision making

Following Merseyside Waste Disposal Authority's (MWDA) public engagement on the proposals and the preparation of a range of detailed technical assessments, MWDA will submit a full Planning Application to Knowsley Council in early summer 2009. Knowsley Council will carefully consider the Planning Application and if planning permission is granted we expect the new facility to be up and running by the end of 2010.
Your Views

We want your views and comments on the proposed new Household Waste Recycling Centre at Depot Road in Kirkby.
Visit Us
Come along to our public engagement days:
Thursday 2nd July 2009, 11.30am-5.30pm and
Friday 3rd July 2009, 11.00am-7.00pm
Kirkby Fire Station, Webster Drive, Kirkby, Knowsley,
Merseyside, L32 8SJ
Write To Us
[Please note: no stamp is needed on your letter]
Freepost RRYE-BCGS-XYAX
Merseyside Waste Disposal Authority
6th Floor, North House
17 North John Street
Liverpool L2 5QY
Phone Us
Please note calls to this number are FREE
Call our community information line on FREEPHONE 0800 170 1501
Email
Send us an email to: enquiries@merseysidewda.gov.uk. To help us deal
with your question or query effectively please mark your enquiry 'KIRKBY
HWRC'.