UPDATE – MRWA was successful in its planning application for this site.
MWDA is proposing to build a new Household Waste Recycling Centre on Wilson Road on the Huyton Industrial Estate.
This page is designed to provide information on the proposals and invite you to two public information days to discuss the plans in more detail. It will also provide you with a variety of ways to contact us so that you can ask questions and find out lots more.
The Wilson Road site

MWDA has used a rigorous site selection process to locate suitable sites for new recycling and waste facilities. Using this process the Authority has identified the new site on Wilson Road as being suitable for new recycling facilities and the development of a new Household Waste Recycling Centre. A location map is below – click on it for a bigger version.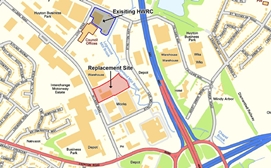 The site is a former petrol station, HGV depot, garage and warehouse situated on 1.6 hectares (4 acres) of land in the Huyton Industrial Estate and is approximately 230m South of the existing facility at Ellis Ashton Street.
What's proposed?

The new Household Waste Recycling Centre will replace the existing public recycling facility at Ellis Ashton Street. Larger and more efficient than the existing Centre, the new public facilities will be able accept up to 20,000 tonnes of recyclable materials and waste a year.
The Waste Transfer Facility for kerbside collections will be retained at the Ellis Ashton Street site.
Why are we replacing the existing Centre?

MWDA is improving its existing sites and building new recycling and waste facilities across Merseyside. By providing a new and improved Centre, this will provide local residents with an improved recycling experience.
How will the new Centre be different?

The new facility will be designed to receive up to 20,000 tonnes of recyclable materials and waste per year. It will be purpose built to encourage the public to recycle, with far more space than the current facility and more containers for recyclable materials.
Containers for the most common forms of recycled material (glass, plastic bottles and paper/cardboard) will be situated close to the public entrance in 'Bring Banks'. An image of the proposed layout is below – click on it for a bigger version.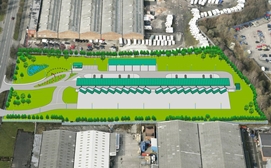 The layout will ensure that traffic and pedestrians can access the site easily and include extensive on-site queuing capacity to ensure that queuing on the highway is kept to a minimum. The site will also incorporate a canopy that will cover the main recycling containers to protect customers from bad weather conditions.
What would the new Centre do?

The Centre will enable the public to recycle and dispose of a wide range of materials free of charge including; car batteries, cardboard, electrical items and equipment, engine oil, garden waste, household batteries, paper, furniture, rubble, scrap metal, textiles, drinks cans, timber, glass and soils. The site will accept asbestos from householders through a bookable appointment system and in line with strict health and safety guidelines.
The expectation is that these improved facilities will allow MWDA to significantly improve recycling rates. The new Centre will NOT accept trade or commercial waste.
What will happen to the existing Centre?

If MWDA is successful in securing permission for the new facility, the Household Waste Recycling Centre element of the Huyton Waste transfer station would be closed once the facility on Wilson Road is operational. The Waste Transfer Station will remain operational.
Traffic and Transport

The existing facility at Ellis Ashton Street is well used by the public with an average of 7,953 vehicles using the site each week and currently handles circa 20,000 tonnes of waste and recyclables per year. The proposed new replacement site on Wilson Road will be designed to handle the same amount of waste and recyclables and as such it is unlikely that traffic movements associated with the site will increase from existing levels.
The new site plan incorporates measures to help manage traffic more effectively and has the capacity for approximately 30 vehicles to queue on the site. This means that, even at busy times, queuing on local roads will be kept to a minimum.
A separate entrance at the site on Wilson Road is proposed for operational vehicles that would move the recyclable materials and waste off the site. This will keep the operational and public vehicles separate.
Protecting people and the environment

MWDA will be submitting a full Planning Application following consultation with the local community and other stakeholders and if planning permission is granted Veolia Environmental Services, the Authority's contractor, will operate the site on behalf of MWDA.
Before the Centre opens, Veolia will have to apply to the Environment Agency for an Environmental Permit to operate the site. This Permit will ensure that the site is being operated in a safe and sustainable manner and that local people and the environment are not adversely affected.
The Planning Application will include detailed information on the following:
Landscape and visual amenity
This will explain how the site would look and give detailed information on any screening required and planting of plants and trees.
Ecology and nature conservation
Habitat and protected species surveys will be undertaken to determine the ecological value of the site.
Air quality
An assessment of the impact on air quality will be prepared and measures put in place to ensure that emissions from on-site waste management vehicles are kept to acceptable limits and equipment will be well maintained.
Noise
Surveys on noise levels will be presented and an explanation given about how potential impacts would be managed. Noise levels will be well within acceptable limits and equipment will be well maintained.
Contaminated land assessment
Site investigation information will be included in the Planning Application. The site investigations and desk study have not identified any major constraints to the redevelopment of the site. On the western part of the site the tanks and pipe work associated with a former petrol filling station remain in place. This infrastructure will be removed as part of the redevelopment of the site.
Flood Risk Assessment
A Flood Risk Assessment will be prepared which is compliant with Planning Policy Statement 25. This site lies partially within flood zones 2 and 3 on the Environment Agency's flood map and is therefore considered to be at risk of flooding in these areas from the watercourse, Logwood Mill Brook. An 8m standoff from the brook to the site has been incorporated within the design of the facility so there is sufficient available working space for maintenance of the brook and adequate standoff from the areas at risk of flooding.
Traffic and access
A traffic impact assessment will be provided looking at how the facility would change existing traffic patterns around the site. It will detail any projected increase in traffic using the facility and include an assessment of the capacity of surrounding roads and junctions.
What happens next?

Before MWDA submits the Planning Application we want to hear from you. Over the coming weeks we will be informing residents and interested parties about the proposals and encouraging people to give their views. All comments and suggestions will be registered and considered.
We will submit a public engagement report to Knowsley Borough Council with the Planning Application to explain how we let stakeholders and the wider community know of our plans.
Once the Planning Application is submitted, Knowsley Borough Council will undertake its own formal consultation so you will have a further opportunity to comment on the plans at that time.
Decision making

MWDA intends to submit a Planning Application to Knowsley Borough Council in April 2010. This will follow public engagement on the proposals and preparation of a number of detailed technical surveys and assessments.
If Knowsley Borough Council grants planning permission we expect the development of the new facility to start in Spring 2011 and the new Centre to be operational by Autumn 2011.
Visit us:
Come along to our public engagement days on:
Monday, 8th March, 11.30am – 7.00pm
Tuesday, 9th March, 11.30am – 5.30pm
Huyton Suite, Civic Way, Poplar Bank
Huyton, Liverpool, Merseyside, L36 9GD
Write to us:
Freepost RRYE-BCGS-XYAX
Merseyside Waste Disposal Authority
6th Floor, North House
17 North John Street
Liverpool L2 5QY
Phone us:
Call our community information line on FREEPHONE 0800 170 1501
Email us:
Send us an email to: enquiries@merseysidewda.gov.uk
To help us deal with your query effectively please mark the email 'HUYTON HWRC'.