Merseyside residents have been getting creative as part of the 'Turning the Tables' project which has been focusing on recycling and reusing furniture waste.
Organised and led by Faiths4Change, nine community Hubs across the region have taken part in creative reuse workshops to develop a range of repair and upcycling skills targeting furniture that was destined for landfill.
As part of the initiative, community groups used their newly gained skills to develop an interactive large scale recycled sculpture. The large artwork is made from unwanted materials to show what can be done with a little bit of imagination, and is now on display at Liverpool Central Library from the 21st March.
Local residents at community Hubs right across the Merseyside and Halton area have been learning a range of practical skills and how to update their furniture at home and getting tips on how to save money by reusing, repairing and recycling items. The project has been supported with a grant from the Merseyside Recycling and Waste Authority Community Fund.
Contributed to by participants and volunteers, the large scale artwork is made from unwanted materials to show what can be done with a little bit of imagination. While getting creative to make the artwork,
Liz Atherton, Arts & Wellbeing project coordinator for Faiths4Change, said: "Over the last 6 months we've worked closely with our community Hubs; ranging from a mental health hospital to a food bank to women's services. We've been delighted how people have responded to the project and created such wonderful tiles for the artwork. Our project shows what ordinary people, who don't think they're particularly artistic, can do. It's highlighted just how much of what we throw away can be used again."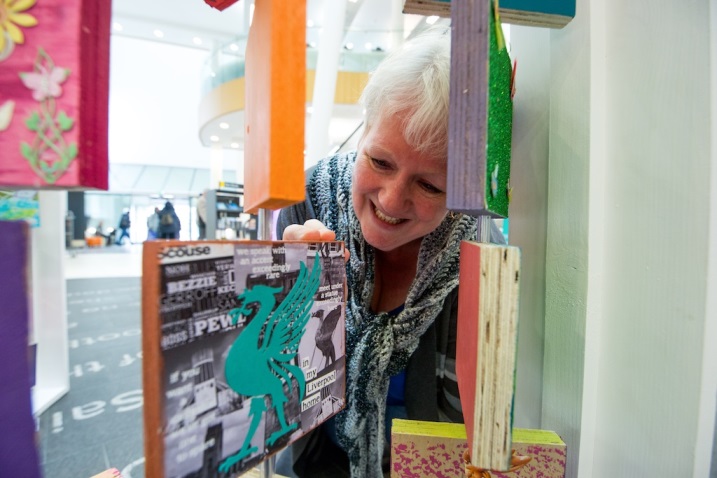 Cllr Graham Morgan, Chairperson of Merseyside Recycling and Waste Authority said: "By supporting Faiths4Change we've enabled them to reach out to a wide range of communities with recycling and reuse messages. By recognising some of the barriers that these sometimes hard to reach groups experience, the project has developed a range of activities to ensure both a better understanding of recycling services and actions, but has contributed  to better communications, joint working and improved health and wellbeing overall."
The 'Turning the Tables' exhibition is in the main atrium at Liverpool Central Library from 21st March until the 4th April, 2017. Faiths4Change are running a competition where you can win a hamper of materials and tools to get you upcycling at home. Find out how to enter by going to: http://www.faiths4change.org.uk/our-projects/turning-the-tables or on twitter @faiths4change
Turning The Tables has been supported by nine community Hubs across Merseyside and Halton: Peasley Cross Hospital (St Helens), Tomorrow's Women Wirral (Wirral), St.Leonard's Youth & Community Centre (Sefton), Karma In The Community (Knowsley), Vee's Place (Knowsley), Four Estates (Halton), The Studio (Halton), Liverpool Shed Club (Liverpool) and Women Together (Liverpool).
Attached image captions:
Groups from across Merseyside at the launch of the exhibition with Liz Atherton, co-ordinator of the project, Cllr Laura Collins, one of the Authority's members from Liverpool City Council, and Glynn Stevenson from Merseyside Recycling and Waste Authority
A close up of some of the recycles and reused decorated tiles created by community groups and individuals for the 'Turning the Tables' Art installation
ENDS
Media contact:
Colette Gill, MRWA Communications and Marketing Officer, Tel: 0151 255 2527 colette.gill@merseysidewda.gov.uk
John Lally, Communications and Marketing Officer, Tel: 0151 255 2568 john.lally@merseysidewda.gov.uk
• Project Coordinator: Liz Atherton, Faiths4Change, Tel: 07713278984 liz@faiths4change.org.uk
Notes for Editors
(i) The MRWA and Veoila Community Fund was open to community and voluntary sector groups, not for profit social enterprises and schools in Merseyside and Halton.
(ii) MRWA operates (via a contract with Veolia) 14 Household Waste Recycling Centres (HWRC's) for householders in the Merseyside area wishing to recycle and dispose of their own waste.
(iii) Merseyside Recycling and Waste Authority is responsible for the disposal of municipal waste on Merseyside. Established in 1986 following the abolition of Merseyside County Council, it is a statutory Authority that works with all the local authorities on Merseyside – Knowsley, Liverpool, Sefton, St Helens and Wirral. MRWA takes a lead in advocating recycling, waste minimisation and safe and effective disposal of waste for Merseyside residents. More information at: www.merseysidewda.gov.uk Twitter: @MerseysideRWA Facebook: MerseysideRWA
(iv) More information about Faiths4Change can be found at http://www.faiths4change.org.uk/our-projects/turning-the-tables or on twitter @faiths4change